Bluffing it, can't play golf, eh? Follow these tips and you'll look good anyway
Advice to help non-golfers look like golfers includes dressing like a golfer, taking along at least 12 golf balls and arriving early to practice on the driving range. Additional tips include replacing divots, following course rules about golf cart-driving and using phrases such as, 'Get legs!'
Follow these tips and you'll look good anyway
It's this simple: you're not a golfer. Waste of time. Silly sport. Too frustrating. Whatever the reason, you're just not to be found among the throngs of people swing violently at a little white ball on a well-groomed meadow each weekend.
But on rare occasions, it becomes necessary that you smack the dimpled little critter aimlessly around the course.
A casual business get-together, or an association tournament that you simply can't afford to miss, sometimes forces you to buckle down and ensure the event. And since you'd like people to think you have a clue on the links, you need some advice. Here are several tips that will get you through the day without injury to body, ego, or reputation.
Dress the part
Men and women can blend nicely into the crowd by wearing short-sleeved polo shirts, coupled with knee-length shorts or cotton pants, short white socks, and a baseball-style cap. Also, a sporty windbreaker works well– unless, of course, It's a 90-degree day. Avoid, at all costs, wearing the following articles: knickers, argyle socks, and anything plaid or similarly busy. You do not want to look like Judge Smalls, Ted Knight's Caddyshack character.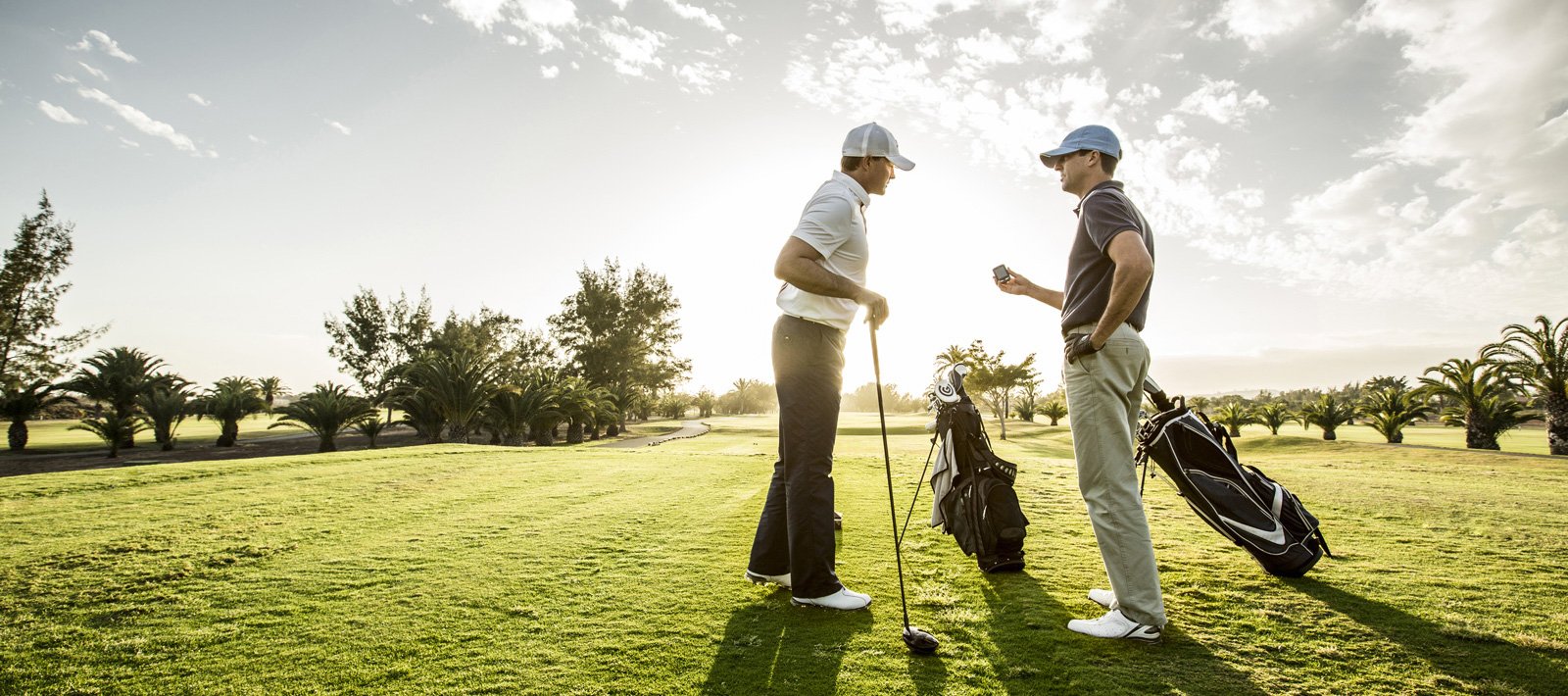 If you only play once or twice a year, chances are that you don't own clubs or golf shoes. And that's fine because if you call the pro shop at the course you'll be playing a few days in advance, they will have a set of clubs and clean spikes (golfspeak for shoes) waiting when you arrive, at a cost of anywhere from $20 to $40. Further, the clubs that golf courses keep as rental sets are, very often, better than the sets most people own. Not only will you look good, but you will probably hit the ball noticeably better than you would have with that rusty set of clubs you were going to borrow from your neighbor. Stock up Remember the golf balls your friends gave you, in the hope that you would take up the sport? Well, dig them up, dust them off, and put them in your
bag. If you don't have at least 12 balls (It's better to have 18), take a few from the cheapie bin in the pro shop before you tee off–It's usually just a buck perused ball. The only thing less fun than losing balls is having to burn them from your partners when you run out.
Equally important is keeping a spare ball in your pocket at all times while you play. This way, when you knock your shot into the woods, the water, or the parking lot, you'll only have to search briefly (30-60 seconds) before you drop your spare and swing away. Cardinal rule: A bad golfer is tolerable; a slow golfer is worse than the root canal. Don't be one! Arrive early
Get to the course one hour early and head directly to the driving range. After purchasing a bucket of balls, pull out the nine-iron and hit four or five shots. From there, work backward until you've hit balls with every club in the bag except the driver (i.e. eight-iron, seven-iron, etc., down to the firewood and three-wood). Even frequent golfers cannot hit the ball consistently well with a driver, regardless of what they tell you. It's highly doubtful you'll be the exception, so leave it alone–try the three-wood or five-wood instead. Once you find a few clubs you hit well, use them out of the course until they break. Keep a mental note of which clubs you hit best with, and how far the ball travels–this way, you'll know the club you can hit off the tee, the one you can hit on the fairway (or from the rough), and the one you can hit around the green. Any club that produces a fairly straight, 150-yard shot is perfect for tee and fairway shots alike.
Show your etiquette
Chase down and replace divots (hunks of earth you tear out when you swing), rake sand traps after you've walked and hit out of them, and use a tee to push up any dents (called ball marks) you make on the green. None of these tasks is difficult, but they all create the impression that you know the routine.
Chances are good that the tournament will provide motorized carts for players to get around. If you decide that you'd like to drive one of them, the club generally sets rules as to where you may go on the course with the cart. The majority of golf courses use the 90-degree rule, which dictates that you must keep the vehicle on the cart path until you arrive at the spot on the path that is parallel to your ball, and then turn 90 degrees and drive directly to your ball. After you hit, turn the cart around and return to the cart path the same way you entered. This keeps the fairways from becoming trampled. Rules differ from course to course–some do not permit the cart on the fairway at all, while others (albeit not many) let you drive the cart directly across the fairway to your ball. Find out the rules before you tee off.
Most importantly, keep in mind that while your performance on the links will not be remembered tomorrow by anyone except you, if you show your prowess in swearing and throwing clubs, your antics could become legendary-in a negative way. Finishing touches Here are a few situational phrases that, when used in the proper instances, will make you sound like part of the experienced crowd.
1) If someone hits a halfway decent shot, you can say, "That dog hunt."
2) If someone hits a putt that seemingly will not reach the hole, implore the ball to "Get legs!"
3) If someone hits a shot onto the green that looks like it will not stay on the green, you tell the ball to "Sit down!"
4) If you're playing as badly as you hoped 'you wouldn't offer up this one: "The nineteenth hole looks pretty good right about now." Everyone will nod in agreement.
Well, now you look and sound authentic, but you probably still derive no pleasure whatsoever from the game of golf. In that case, approach the day this way: the sun is out (hopefully), the grass is green, the trees are pretty, and the beverages are cold. So enjoy it, because you'll never be able to say those things about the office, right?